Kyle + Sarah: A Wedding With Kilts
Kyle and Sarah are finally married! I say 'finally' because for the last several  months she's been in Spartanburg, SC, while he has been in California. Not exactly the way I'd choose to spend my engagement, but that said, I think the two of them being apart made the electricity between them on their wedding day all the more evident.
As usual, Wendy started out with the girls while they got ready…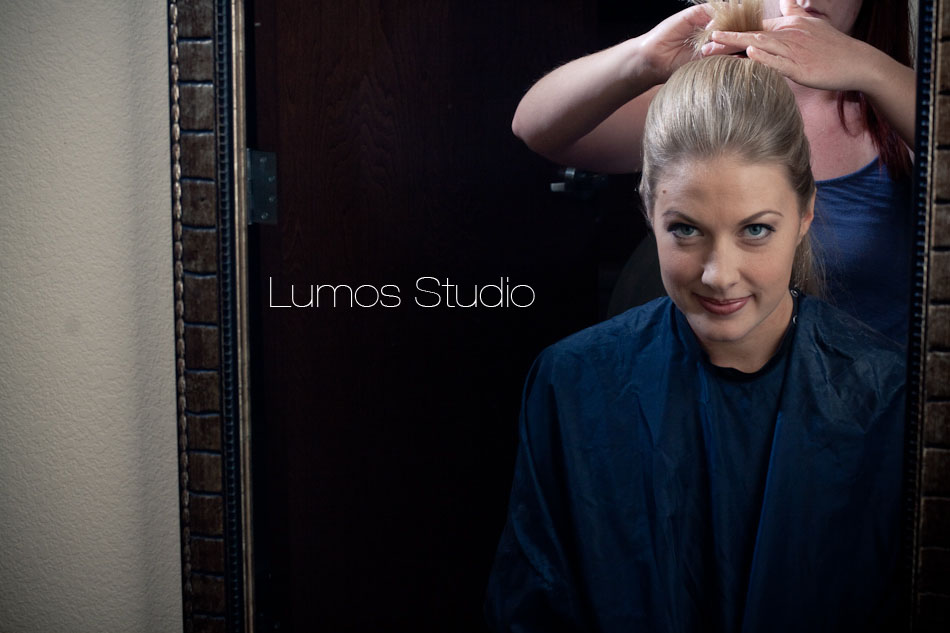 No Photoshop on this next one—seriously. Just some fortuitous lens flare.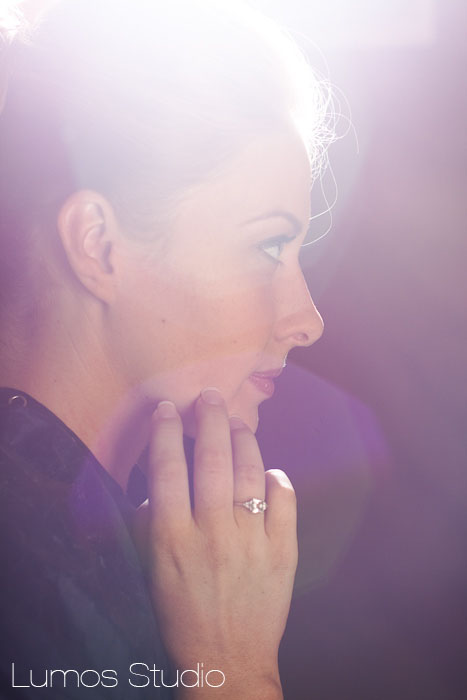 So the girls put on their girly things…
…and the guys put on their…kilt hose.
Yup. Kilt hose.  This wedding comes with kilts.
This shot below is Kyle showing the guys how to properly align their flashes. (Those are the little flag-like things near the top of the kilt hose.)
Kyle, like Wendy and me, is a teacher, and I can tell you from spending the day with him that he is good at what he does. He got a room full of guys to dress themselves in a surprisingly complicated garment with nary a snicker. By the time he was done explaining I felt like I could have gotten into a kilt, hose, flashes, shoes, sporran (a great place for your cell phone, by the way), and all.
Sarah was, of course, lovely.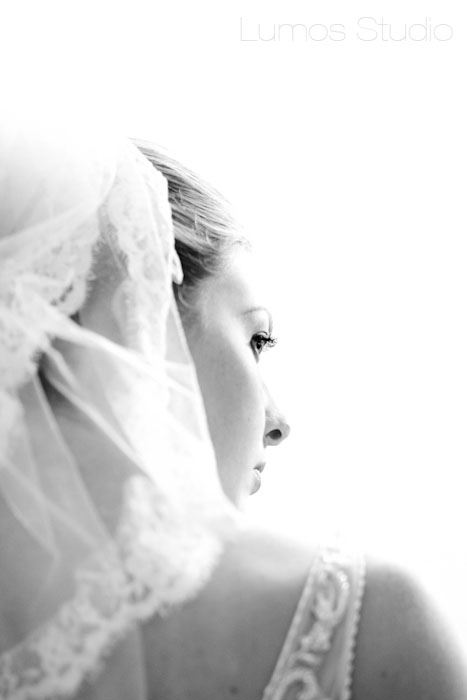 …as were her bridesmaids…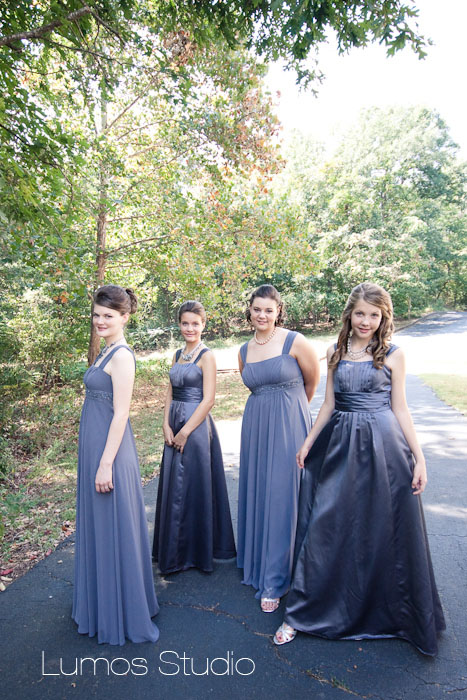 …and the guys were in kilts.
No, seriously, how cool do they look?
…and if you don't like the kilts, I'd keep it to yourself, because they all have knives tucked into their socks…or hose.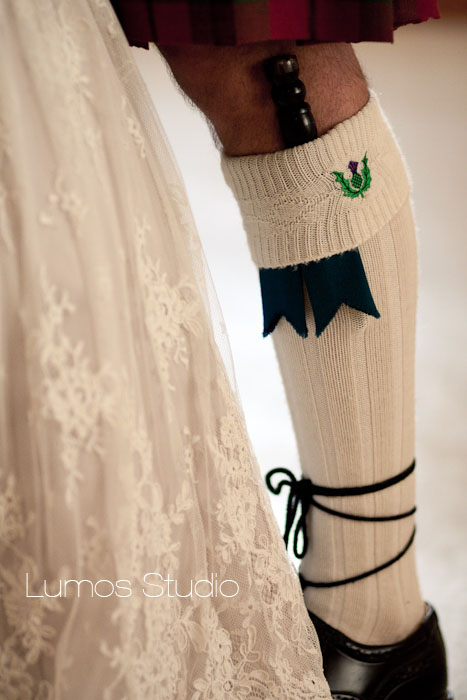 (You do not mess with the Scottish.)
After the ceremony, we all headed over to Walker Hall at the South Carolina school for the Deaf and the Blind for the reception.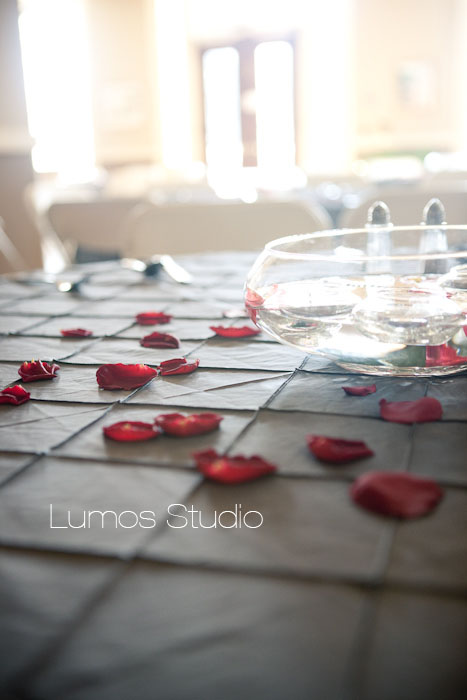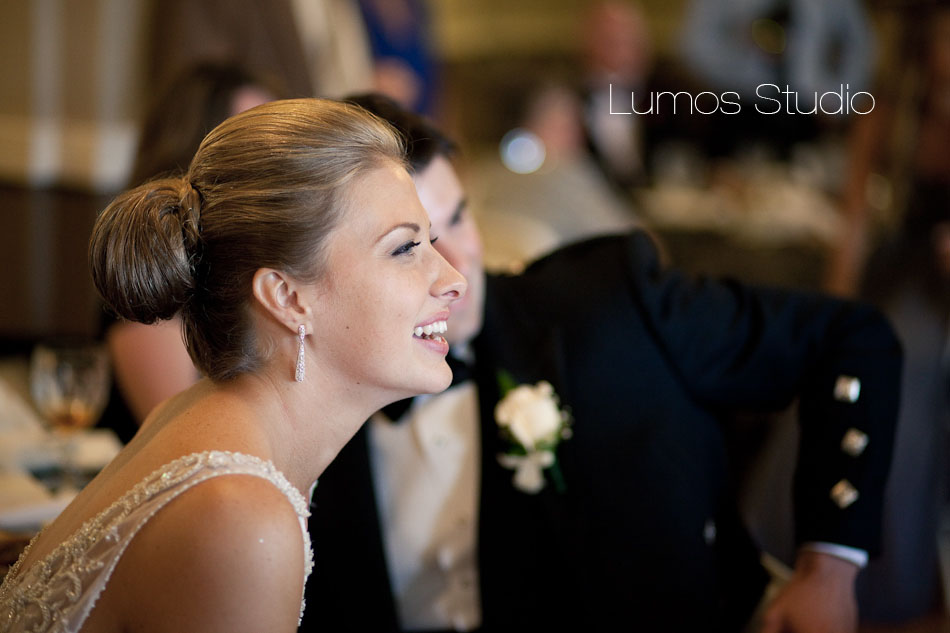 There, Kyle's groomsmen serenaded the new couple with (what I assume was) a traditional Scottish tune.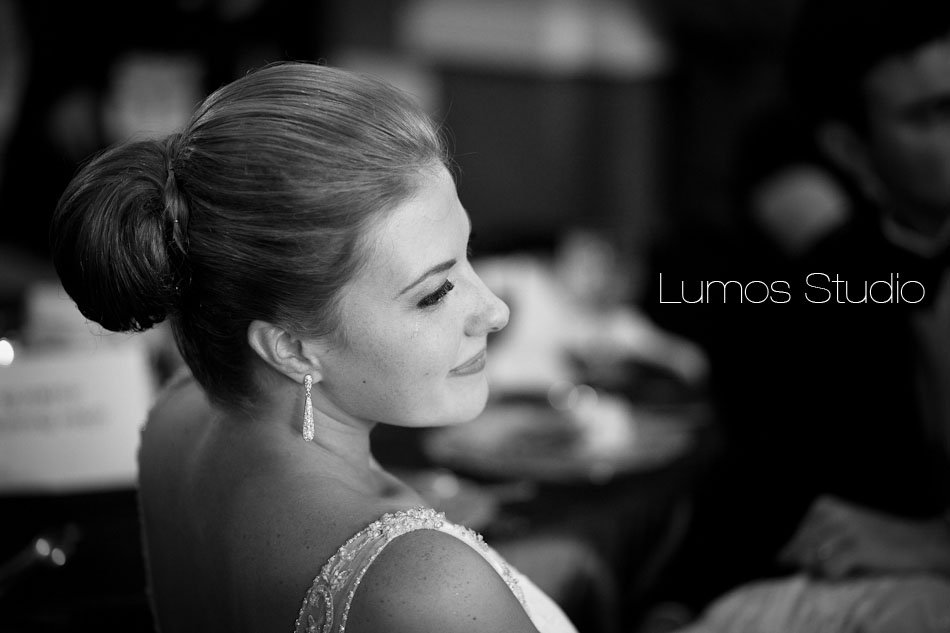 We snatched Kyle and Sarah aside for a little while to photograph just the two of them. Unsurprisingly, these are some of our favorite shots of the day.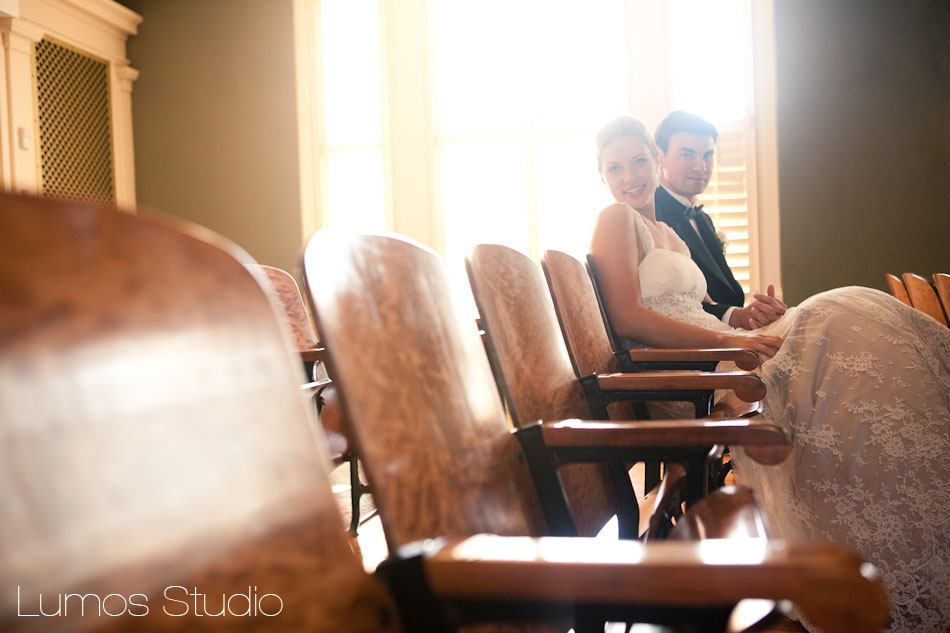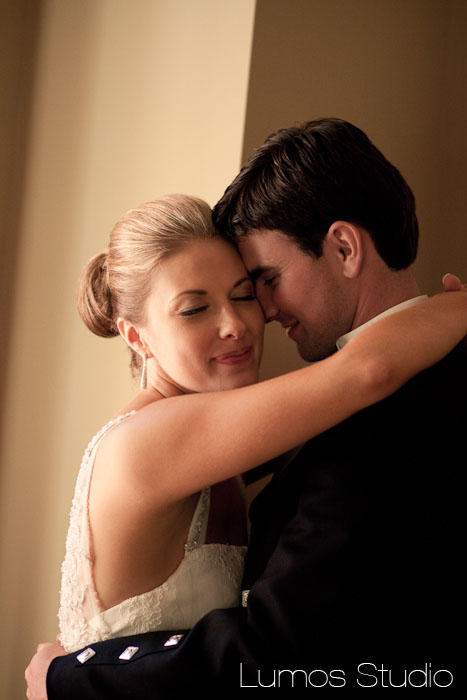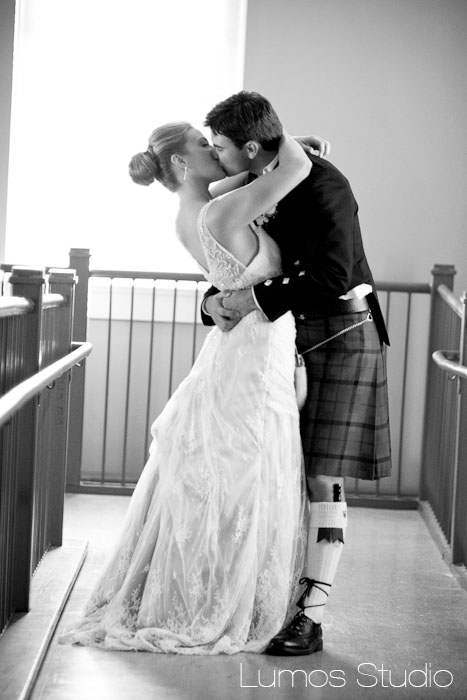 Of course, you have to toss the bouquet!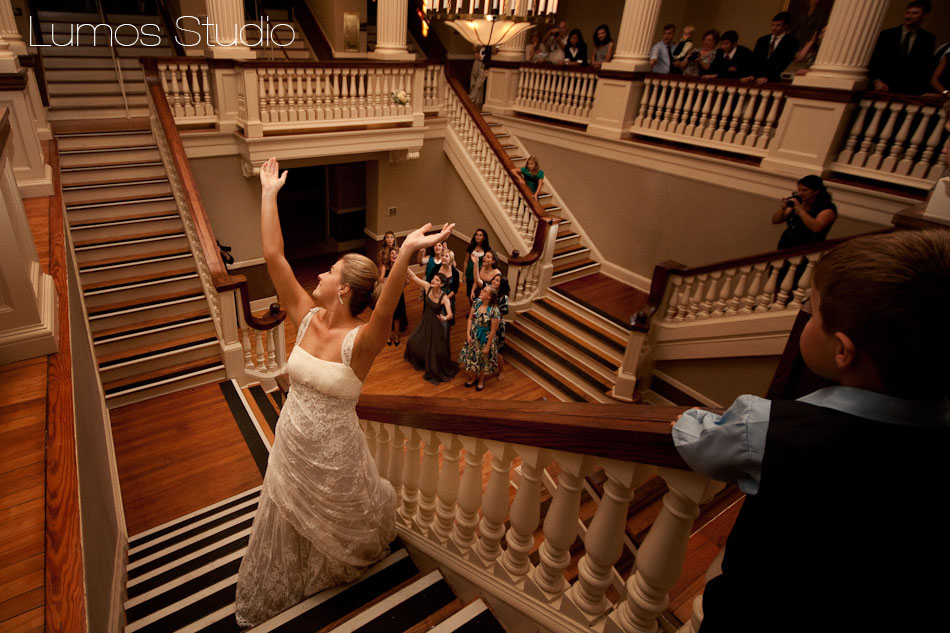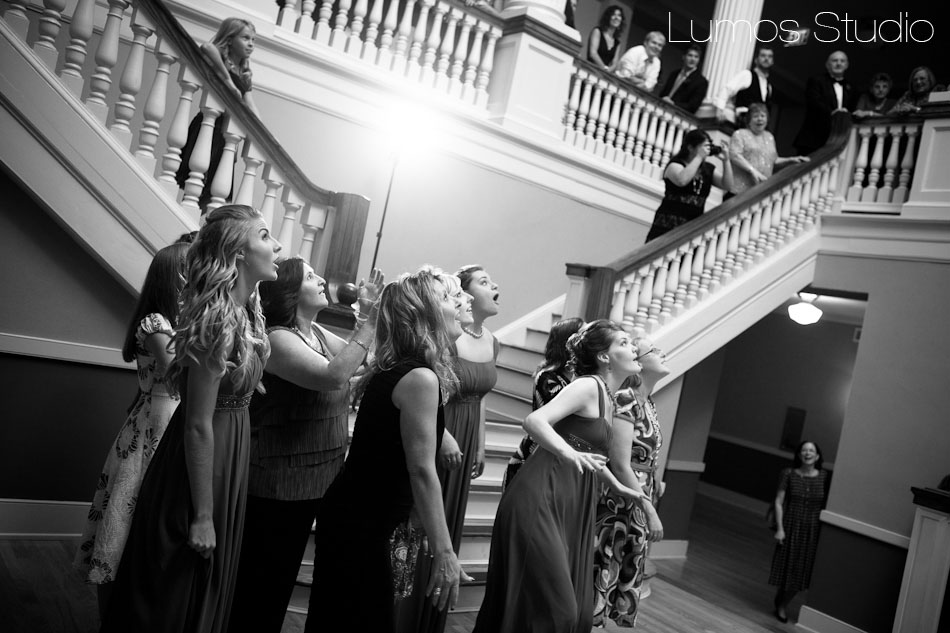 Don't you love this couple's style?
It wasn't enough for Kyle  to wear a kilt for the wedding—before departing, he slips into a full-on seersucker suit. But I guess you have to be on top of your fashion if you're going to be married to Sarah, who moved seamlessly from her custom-built wedding dress to this awesome little Some Like it Hot number. Oh yeah, let's set 'em both on the hood of a Corvette for good measure.
Congratulations, Kyle and Sarah! It was a delight getting to know you and we pray your lives in California are filled with joy, love, and frequent visits to South Carolina!