Marie & Tanguy's Belgian Wedding
Hold on to your waffles, because this is a very special post for us. First, it's the wedding of dear friends, Marie and Tanguy (pronounced "Taun-gee", not "tan-guy"), and second, it's our first international destination wedding.
Voici la version française de cet article!
Wendy and I first met Marie when she was visiting the states several years ago as an exchange student. We even got the chance to take her around and show off Columbia a little bit, visiting Blue Cactus and Bill's Pickin' Parlor, assuming that neither Tex-Mex/Korean food, nor bluegrass jam sessions were particularly abundant in her home country of Belgium.
After she went home, Marie and Wendy continued corresponding and developed a wonderful friendship. So, last year when Marie told us that she and her beau, Tanguy, were getting married, it didn't take a lot of arm-twisting to convince us to attend.
Now, you should know that Marie speaks French natively, and English fluently. Wendy teaches French and I…well, I know enough French to get myself into trouble. It's a good thing I had Wendy as my guide.
Wendy and I flew into Brussels where we were almost immediately greeted by a festival of some sort that included groups of people in medieval garb walking down the streets in formation, sometimes playing instruments, occasionally mounted on horseback, and once, even wearing armor. Google was able to tell me that the festival is called Ommegang, but Google seemed to be the only one who knew what it celebrates or why there were men on stilts attempting to knock each other to the ground. I'm pretty sure that even the native Bruss-…Brussel…Brusselians? didn't really know what was going on. It was a spectacle, and it was fun.
After getting our bearings a little, we headed down to Ellezelles, where we stayed with Marie, Tanguy, and their precious daughter Celestine. (Don't worry, potential clients, we will almost certainly not stay at your house when we photograph your wedding!)
I could spend the entire entry describing how Marie, Tanguy, and their families were amazingly gracious hosts, serving us traditional Belgian fare such as french fries (Belgian, not French), chocolate, crêpes, and more chocolate, but this is a wedding post, so let's get to the photos.
As we usually do, Wendy began the day with the bride as she got ready while I photographed the groom.
Once Marie's hair and makeup were done, she and Wendy went to her parents' house so she could get into her dress.
This is Célestine who is, as far as I'm concerned, the cutest little girl in all of Europe. She is also the person whose French-speaking abilities most closely matched my own. (She's 2, and while her vocabulary and accent are better than mine, I'm definitely taller.)
After everybody was dressed, Tanguy brought Marie's bouquet to her at her parents' house. This is apparently a Belgian tradition, one we saw in her parents' and grandparents' wedding albums. It was an absolutely lovely moment when Tanguy first saw his bride in her wedding gown and we were honored to get to capture it.
The groom's family also comes to the bride's parents' house for the delivery of the bouquet. These are Tanguy's parents, Joëlle and Jean-Paul.
And this is Tanguy's grandmother. She was very eager to let me know that she has eleven grandchildren of whom she is obviously very proud.
(More Celestine because, well, wouldn't you?)
Now, continuing the theme of differences between Belgian and American culture (Did I mention they put mayonnaise on their french fries?), Belgians who choose to have a church wedding have two entirely separate ceremonies. The first takes place at town hall, and is officiated by the mayor.
The mayor's belt/sash is the Belgian flag, so I'm pretty sure it's more ceremonial than a bold fashion statement.
I have no idea what the mayor said, but people smiled and laughed, repeated after him, and at a point near the end, Tanguy and Marie kissed, which I took to be a good sign.
From there it was on to the church. Again, speaking to cultural differences, I'm fairly certain that this church in this small town in Belgium was older than our entire country. Apart from its size and gorgeous architecture, there's simply something impressive about being in a building that has stood so long.
Marie had told us that she had hired a special choir to sing songs that would appeal to their guests, since most of them would be unfamiliar with traditional hymns. I didn't think too much about it until, during the service (of which, again, I understood almost none), I heard the unmistakable opening chords of Leonard Cohen's "Hallelujah". It was beautiful, and comforting for me to hear a few familiar lines of English in the midst of a very French-heavy day.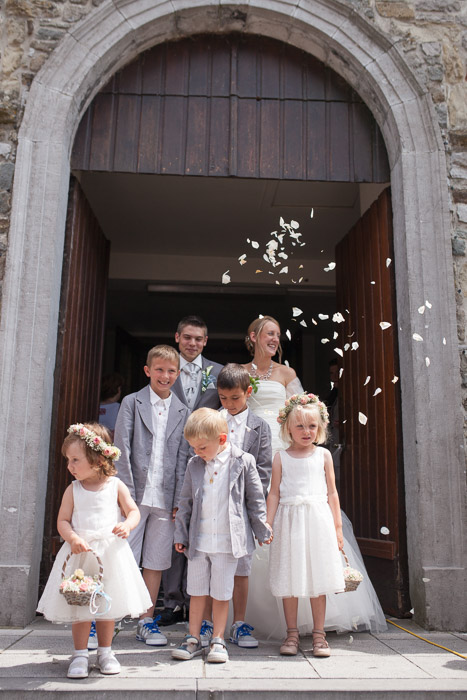 Following the  ceremony, we did what we normally do before the reception…go to a castle.
But you know, you can only really hang out at the local chateau before you're ready to go and celebrate with your friends, so on to the reception it was!
Please note that, despite the presence of an ivy-covered stone tower, the reception venue was not actually a castle…although there was a bouncy-castle.
(Dear every bride and groom: this is the best wedding add-on ever if there are going to be kids at your wedding.)
From here on out, though, the reception was something most any American would recognize. There was eating, drinking, dancing, and cake. (Okay, there was slightly more cheese than at your typical American wedding.)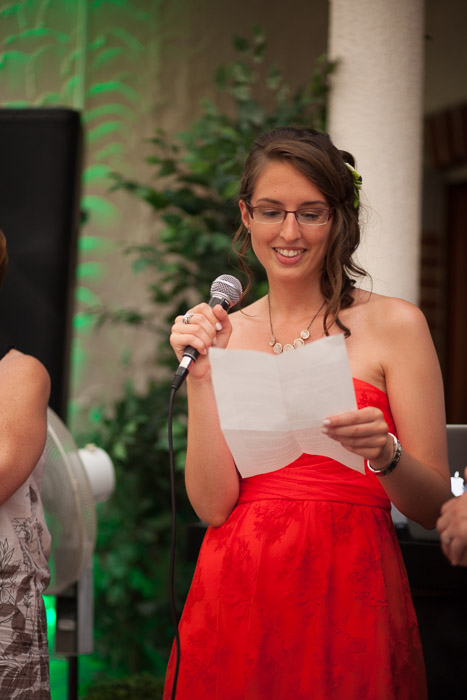 That last photo is Marie's brother Jean-Baptiste is surprising her with their "wedding cake".
Not content with the the bouncy castle, this little guy decided to stalk us from the trees…
(In case you've ever wondered whether Belgium has ninjas…)
Another first for us, Tanguy and Marie released a dove at the reception.

We were introduced to some new dances, including an incredibly aerobic-intensive tunnel-forming response to "Cotton-Eyed Joe".
Guys, watch out for European men–they will totally dance with your wife, and she will enjoy it.
This is Marie's father, Jean-Marie, who showed us all around their town, including making a statue of a witch pee on Wendy and getting us to sample the local brewery's wares at 11:30 in the morning. (Pro tip: Belgian beer glasses are not designed to accommodate "sampling".)  He was an amazing and gracious host.
Marie with her daughter, her mother, and her grandmother.
And here is the real wedding cake. Unlike in the U.S., the cake isn't displayed until it's about to be cut, and even then it isn't really the star of the desert table. (It's Belgium, you have to save room for the chocolate!)
(What? Did you think I was kidding?)
The party actually continued until very close to sunrise. We made our departure at about 2am and returned to Marie and Tanguy's home to find this.
Isn't that sweet? Well, it was also paired with some pretty intense redecoration, courtesy of Tanguy's brothers. We're not going to show you photos of Marie and Tanguy's underwear hanging from light fixtures, but remember how the wedding was beach themed? Well, so did Tanguy's brothers…this is what we found in the bathtub.
The next morning, Tanguy told us it's traditional, the day after the wedding, to eat the goldfish… I'm glad Wendy knew he was kidding.
Marie and Tanguy, thank you so much for inviting us to your wedding! It was an amazing experience and we loved getting to spend time with you, your friends, and your family. We pray that your marriage will be filled with love, joy, kindness, and lots and lots of chocolate.
Give Celestine a big hug for us!