Sarah: Bridal Portraits
Through the magic of the internet, it's possible that Wendy and I are actually photographing Sarah and Kyle's wedding even as you read this. We took these bridal portraits of Sarah at The South Carolina School for the Deaf and the Blind a couple of weeks ago but obviously we couldn't post them until the big day. Well, the big day is here, and so are the photos!
Sarah's dress, as you can see, is amazing. What you can't see is that  it was made especially for her. Sarah explained that she bought the base of it off the rack for a ridiculously low price then took it and the outer, lacy fabric you see here to a friend of hers who transformed it into the work of art she's wearing in these photos.
These shots were taken in and around Walker Hall, where Kyle and Sarah are having their reception.
This was pretty awesome: there's a stand of bamboo right across from Walker Hall, and Sarah indulged us by modeling in it. I think we got a sort of Heart of Darkness meets Runaway Bride look, don't you?
No?
Anyone?
And here's Sarah indulging us more, tiptoeing through the garden "like Alice in Wonderland".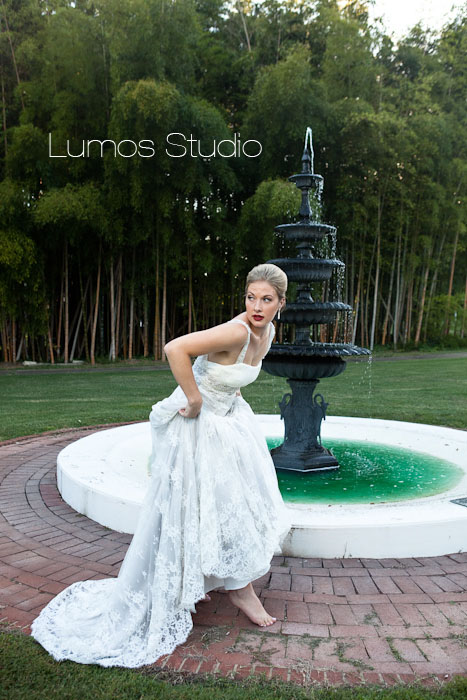 As we were finishing up, the setting sun illuminated Sarah's veil and we captured this.
And here's one last image from the day.
Check back in a couple of days for teasers from Sarah and Kyle's wedding. See you soon!