Danielle Howle
I can't begin to guess at the reasons, but South Carolina is home to more amazingly talented (and frequently underrated) musicians than it has any right to. In particular, three of the most talented songwriters that I have ever encountered currently call the Palmetto State home. Now, I'm in a band with one of them, so to gush about how preposterously gifted she is might seem immodest. Therefore, I simply won't mention how astounding Molly Ledford is, or even bring up her hibernating adult project The Verna Cannon. Instead, I'll start with Jay Clifford, a long-time resident of Charleston and former frontman of Jump, Little Children. I'm afraid words will fail me if I try to describe Jump, so I'll stick with letting you know that I saw them perform live around fifty times during high school and college, maybe more. I like 'em a lot.
That leaves Danielle Howle.
Capturing life as it is experienced by a diverse array of characters, she explores topics as wide-ranging as the loss of a mother, being the wife of a philandering husband, and being a teenager who doesn't fit in with the girls who have "big puffy girl handwriting".
But I'm not writing an album review.
Danielle, on top of her amazing talent, is also just a great person. Wendy and I asked her to perform at our wedding and she graciously agreed. I suspect that many of our guests didn't fully appreciate just what a treat they were getting, but we did get quite a few comments that, "That girl who sang at your wedding–she was really good."
Apparently Bob Dylan, The Indigo Girls and Ani DiFranco thought so, too, since she's opened for all of them.
Danielle is currently an artist in residence at Awendaw Green, a new music venue in Awendaw, South Carolina. (If you knew that there was a place called 'Awendaw' in South Carolina, please give yourself a pat on the back; it was news to me.) Wendy and I drove down to Awendaw last Friday to get some pictures with Danielle, and the following are a few we particularly like. We hope you'll like them, too.
We hung out at the home of a friend of Danielle's who lives on the Intracoastal Waterway.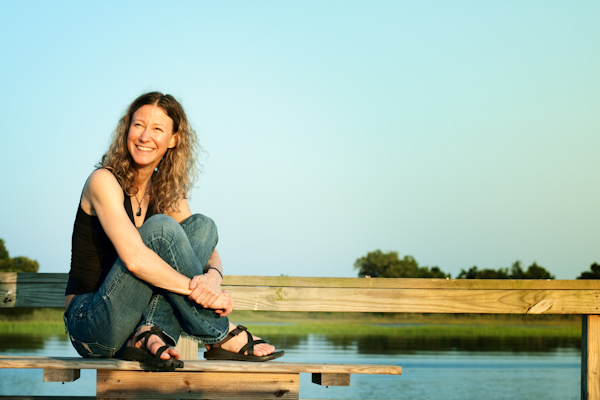 Danielle kept pointing schools of fish out to us and suggested that they might even attract dolphins. I think I have a somewhat idealized view of dolphins as a result of their portrayal in movies and on television because my first thought was that they'd like to play with the fish…
…then I realized fish don't like to play the games dolphins play with fish.
Danielle decided to play with the fish as well, and her game was no more fish-friendly than what the dolphins had in mind.
(No fish were harmed in the making of this blog. Seriously, she didn't catch anything.)
For this next photo, I feel it's important to note that neither Wendy nor I suggested that Danielle climb this tree. It was totally her idea.  If you decide you'd like us to photograph you, it's far more likely we'll instruct you to recline languidly on a couch.
What can I say? Danielle likes trees.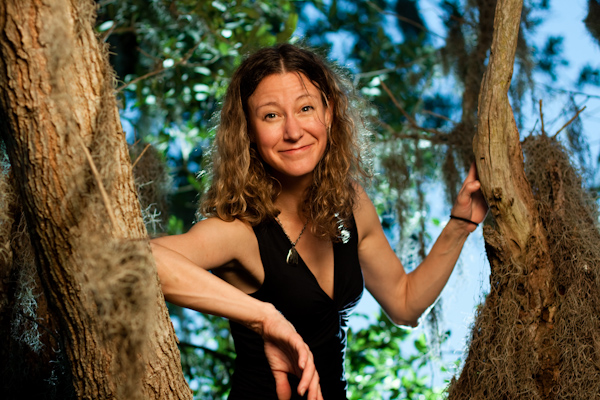 Well, now you've seen her, it's time to go listen to her music. Her website is currently under construction, but you can hear some songs on her MySpace page and then go become her fan on Facebook. You'll be glad you did.